Tuesday, July 22, 2008 11:59 p.m.

It's three beautiful years baby! :)
Tuesday, July 22, 2008 11:58 p.m.

I officially graduated from university today! The bank was nice enough to let me off for the afternoon so I could go back home, wash up and go down to school, way on time for the evening ceremony. It was nice having tea at the cafe by the quad, meeting up with the people whom I usually hang out in school with or say hello along the corridors but haven't got the chance to in the last couple of weeks, taking lots and lots of photos and fretting over whether my mortarboard will fall off my head. We were originally allocated 2 tickets per graduate so Sarah and E were going to hang around outside the auditorium but thankfully, Mum managed to get more tickets so the both of them could come for the ceremony itself and get bored with 500 over graduates getting their certificates. Haha.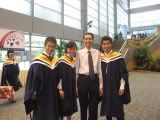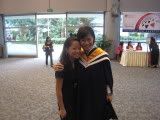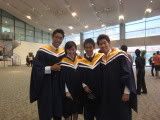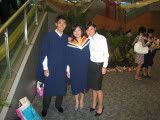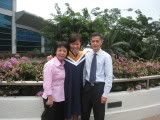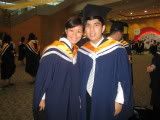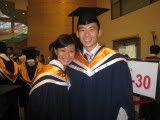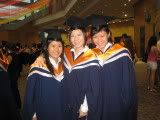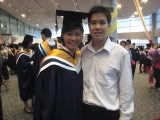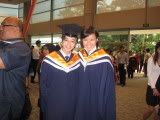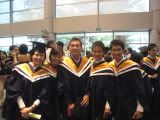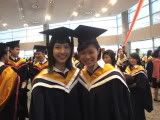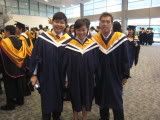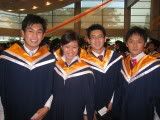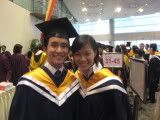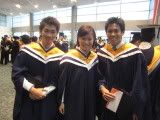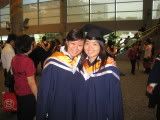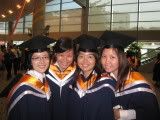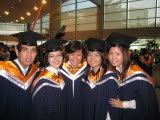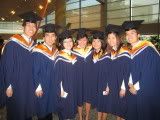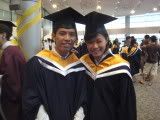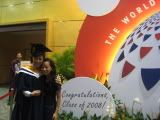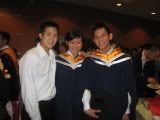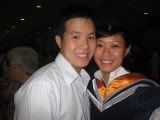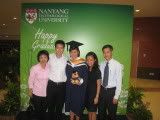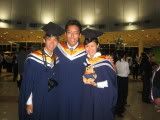 Looking back, I can't believe 3 years have gone by so quickly. I remember hating the school so much when I first entered and having so few friends. I think I was almost determined to hate the course and make my parents see that and then transfer to economics or law or SMU. But I think after a couple of weeks, my hate for the school kind of diluted a little and by the grace of God, I started making friends (many of whom are close friends today) and looked beyond the SCGS girls circle. I realized too how superior the course is compared to what was offered by the other universities and I actually began to realize that accountancy wasn't that boring after all and found so much logic in it and started taking a liking to most of the subjects I took. It's amazing but I'm really glad my three years in university turned out the way it did. The only regret I've got is probably not studying hard enough and pushing my limits but graduation today was bittersweet. I've got to say the one thing that pulled me through my initial hatred for the school was knowing that God wanted me to be there in NTU Accountancy and I think having the opportunities to take part in business case competitions, be a student leader/ambassador and spent a semester abroad in Copenhagen were opportunities He gave which made undergraduate days so much more than late nights and endless projects and God had certainly far exceeded my expectations and reservations about school. After graduation, E treated the rents and Sarah to dinner at Holland Village and it was a good day really. The next graduation I really hope and want to attend is Sarah's in a couple of years time!

Friday, July 18, 2008 11:46 p.m.

Met up with my favorite SCGS girls, Shu Hui and Emmeline at Oosters this evening after a long day of meetings at work for post birthday celebrations and belgian/dutch food! :) Since Shu and myself went to Europe for our exchange (Shu did hers in Amsterdam) and we both were fortunate enough to visit Brussels and fall in love with their 1kg pot of mussels cooked in white wine and celery, we decided to introduce that to Emmeline! She loved it naturally and Shu also introduced us to dutch food and honestly, it was the perfect night, feasting on good food, talking about The One, lamenting our current situation and laughing about all our past rendezvous.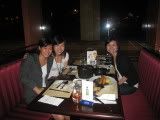 Monday, July 14, 2008 11:39 p.m.

I turn twenty two today and I am no longer forever 21, but was once 21. I can't believe how quickly my twenty first year whizzed by me. My little sister commented just the other day as we were getting dressed to go out for dinner that she felt it was just last weekend that we were all going out for my 21st birthday dinner at Da Paolo and now, we're going out to celebrate my 22nd birthday. She's right. In the last year, I've spent 5 months away from home, traveled across Europe, finished my final exams, graduated from university and became another number in the workforce and Raffles Place morning crowd. I'm not exaggerating but I woke up this morning and immediately felt like the burdens on my shoulders got heavier. No prizes for guessing but I'm not entirely excited about turning 22 (or growing old for that matter) because the further I move away from the year 1986, the greater the responsibilities are, the bigger the liabilities and the greater the commitments and I also got to deal with numerous changes in my social, personal and professional life. Anyway, to celebrate the 22nd birthday, the family and the boyfriend went out for Japanese on Saturday night. Besides the usual dishes, we had 2 lip smacking platters of fresh and thickly sliced sashimi before the boyfriend and I went for desserts at the Hong Kong cafe along Zion Road. This evening, the boyfriend and I again went out for a quick dinner at Marche after work before coming home for the usual cake cutting. Sadly, I think going to work just makes the birthday feel like any other ordinary day and it's quite sad we didn't have time to go back home to get dressed and go for a nice dinner though we'll probably push it to the weekend.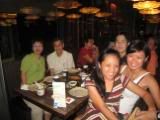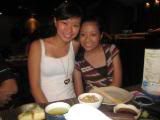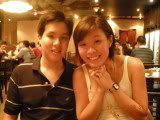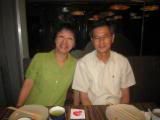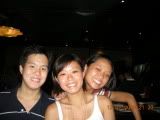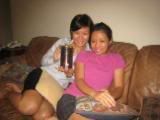 Sunday, July 6, 2008 11:07 p.m.

Clare and John got married last weekend so I pretty much spent Saturday afternoon and Sunday night attending their church wedding and the wedding banquet at St. Regis. The group of us girls from the older girls' cell went earlier on Saturday to church because we were helping out with the guestbook signing and gift registration and the wedding ceremony was rather sweet because besides the usual, John sang a really sweet song to Clare! There was the wedding reception after the service and once that was over, Dorcas, Delia and myself went down town to develop the wedding photos for the guestbook before E and myself met up again (he had to leave in the middle of the wedding because his bank had a soccer match and he was playing) to have a nice long dinner and spent some time talking before going back to his house to watch 27 dresses.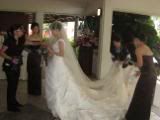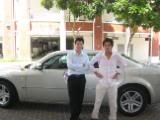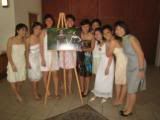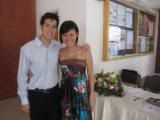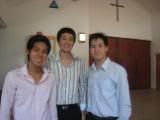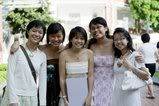 Sunday night was the wedding banquet at the St. Regis and needless to say, it was all glamourous and posh. We weren't allowed to park our own cars so it was all valet parking (unless you arrived much earlier) and they had someone to escort you up to the ballroom and people were always waiting on you. The presentation of the food, and the food itself, was excecptionally delightish! It was very nice and we girls even had a group tour (organized by Charlotte) to the toilet to check it out! Haha. I was rather surprised to see my uncle and my aunt there at the wedding too and then later find out that daniel knows my uncle too so it's a really small world! It did feel like prom all over again, and Debbie crooned two songs at the dinner while the guys played in the band and it was nice, except that I think I still much rather have a quieter, cosier and smaller wedding party for my close friends and family. I don't know if it was Chang or Yado that said that your wedding is never your wedding but your parent's wedding and if you ever want your own wedding, you've got to wait for your kids to have their own. I couldn't help but agree with that. Haha. Met up with E at Wheelock after dinner was over and we talked for a while before heading back home.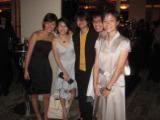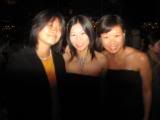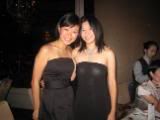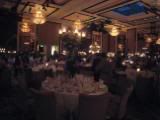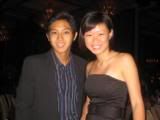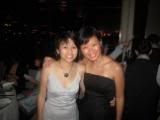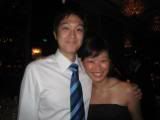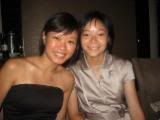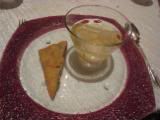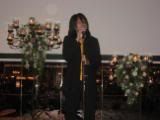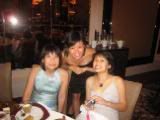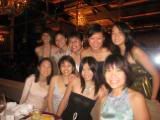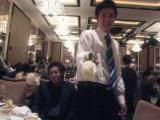 Saturday, July 5, 2008 07:33 p.m.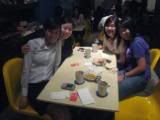 Met up with the SCGS girls last night for dinner and chit chat at Curry Favour and it's always good with them. It's funny how 5 years on, we're walking along such different paths now. Two of them are teachers and the other girl just got out of NUS and is heading to China for a couple of months to do missionary work. I actually do feel guilty that I'm the only one in the group that is not doing anything noble. It was a really good time of talking and catching up and perfect way to end my first week (hellish at times) at work.

Tuesday, July 1, 2008 11:53 p.m.

This morning, as I got out of the train and walked towards the office, I felt like each approaching step I took was one step closer to my death. I felt I was walking further away from a carefree life of freedom and leisure and moving closer to a life of misery, stress and bills. When I was waiting at the reception area and the receptionist turned around to call my boss, I had the sudden urge to run away quickly. However, as I walked down the spiral stairs to the floor and really, the minute I step onto the floor and saw the traders working and making the market and the energy that just ran through the floor, I was reminded of why I chose this job over all the others. And when I got bear hugs from the desk and warmed myself up to seeing numerous computer screens, hearing the phone ring constantly and the bell ring at 11am, and people around me sprouting words and phrases like dollar sing bid, yield curve, carry trades, credit linked notes, overnight rates, spreads, 5 lags, 98 million and 10 pips, it did feel like I made the right decision after all and I could possibly work on the floor and do this job for the rest of my life. Let's see.

Tuesday, July 1, 2008 12:15 a.m.

I can't believe how quickly the weekend and today went by. Now it's past midnight, I just got back from a night out with the boyfriend and I'm slightly less than 8 hours away from reporting to work. While I'm feeling mildly excited about work, a huge part of me is still feeling very apprehensive and very reluctant to move to working life and adulthood. I get well meaning friends telling me that work won't be that bad after all because I now have financial freedom, I don't have to go through exams (this part isn't true) or project stress or worse, travel 2 hours on the train just to get back from school but honestly, all that isn't good enough to entice me to start work. I don't know. I feel like I'm starting the last phase of my life. It's warped but I feel like there'll be no end to this new and final phase. You know your secondary school life or university life will most definitely end after 4 years or 5 years even if you retain a year or repeat a semester. You know the route there is for you after you get out of secondary school or JC. But I can't say the same for the working world. When do you actually stop working? When you've made $3million? When society tells me it's time for me to retire? When I have kids?! When do I move on in my job? How do I know if I should stay or move? Where do I move to anyway? I'm scared I won't have time for myself, or for the people I treasure, or to do the things I want to do or travel to places I want to visit, because after all, I'm going to be constrained by 28 days of annual leave and weekends are definitely not enough to pack everything in. I'm scared too that I won't be suited for this job, that the pace of life there will trample me all over and I'm left breathing in the dust. I'm scared I won't be quick, and more importantly, brilliant enough to grasp what's happening in the market, execute deals quickly and analyze market movements and handle the issues. Argh. It's scary. Really. How did 15 years of schooling pass by so quickly? But I decided I'm going to try to approach this whole issue of starting work and transiting from student life to working adult as positively as I possibly can. And I guess no matter what happens, my comfort is that I have God with me and I know He'll be my strength, my help, my leader and my real boss. -----------------------------------------------------------------------------